Police in Edinburgh have released an image of a hooded top similar to the one worn by the suspect during an indecent assault over the weekend.
A 19-year-old woman was attacked within a garden area on Salisbury Place during the incident, which happened around 3 a.m. on Sunday 2nd October.
The male responsible is described as being white, early thirties, 6ft tall with a large build, dark hair and wearing a dark-coloured kilt, dark boots covering his calves and a dark hooded top with the motif for American band 'The Dropkick Murphys' on the chest.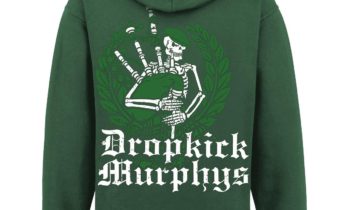 After the victim fought her attacker off, he made his way towards Minto Street and officers are checking with various businesses and hotels as well as taxi and bus services to establish his movements thereafter.
Anyone who recongises the description of the suspect or has information that can assist police with their inquiries is asked to come forward.
Detective Inspector Donnie MacLeod from Edinburgh's Public Protection Unit said: "I would once again like to thank the public who have so far got in touch and their assistance has proved vital in obtaining a detailed description of the male we're looking to trace.
"His hooded top is extremely distinctive and I'm confident that someone will remember seeing him, or actually knows this individual and was in their company at some point either before or after the indecent assault.
"We believe the hooded top was dark in colour, so may be grey or a deep olive green colour.
"As part of our inquiries, we are speaking with various bars, restaurants and hotels to see if staff remember serving this male and we are also liaising with transport companies to determine if he boarded a bus, or took a taxi to a location outside Edinburgh, such as Midlothian or East Lothian.
"I would urge anyone who may be able to provide us with information to contact us immediately if they have not already done so."
Those with information can contact Police Scotland on 101 or alternatively, the charity Crimestoppers on 0800 555 111.