Police officers shot a man with a taser gun last night during an incident in the Clermiston area.
Officers attended following concern for a man at a property on Birchwood View.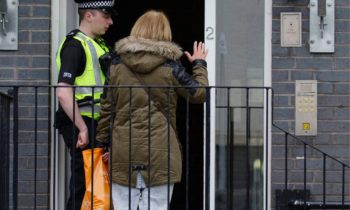 It's understood the man had armed himself with a knife and was threatening to cause harm.
Firearms officers were called in and the man was shot with a taser gun.
The man was taken to hospital for treatment to injuries he sustained before being shot.
The incident has been referred to to PIRC for investigation, which is standard practice when an officer discharges a firearm.
A spokesperson for Police Scotland said "Police in Edinburgh responded to a report of concern for a person at a flat in Birchwood View, which was received around 10.10pm on Wednesday 7 June.
"Armed officers were deployed to the scene and a taser was utilised to bring this incident to a safe conclusion.
"A 28-year-old man has been arrested in connection with this and a report will be submitted to the Procurator Fiscal.
"As is the case in all incidents where a firearm is discharged, the Police Investigations & Review Commissioner have been notified and we continue to liaise with them surrounding this."
A spokesman for the PIRC said: "Police Scotland have notified the PIRC about an incident involving a 28-year-old man where an officer discharged a Taser on 7 June 2017 in Edinburgh.
"We await further information to allow us to assess whether there is a requirement for a full investigation."
Photos: Alan Simpson