People across Scotland are showing their support for the introduction of equal civil marriage for same-sex couples in Northern Ireland ahead of a huge march for marriage equality in Belfast tomorrow.
Northern Ireland is currently the only part of the UK or Ireland where same-sex couples can't marry, despite widespread public support for equal marriage (70% according to an Ipsos MORI poll in June 2016).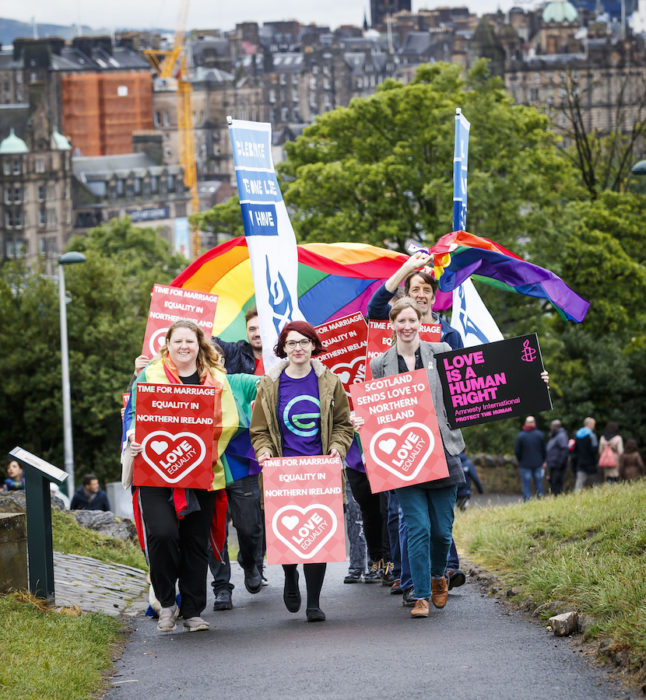 Naomi McAuliffe, Amnesty International's Scotland Programme Director, said: "We are delighted to support the campaign for marriage equality in Northern Ireland. Consider how much progress has been made in just the last five years in the fight for equal marriage across the world – we must continue to show solidarity and use our influence to ensure equality in every part of the UK."
Colin Macfarlane, Director of Stonewall Scotland, said:  "We're hopeful – and so are campaigners in Northern Ireland – that we can use recent events as a catalyst for real change for LGBT people in the country.
"This show of solidarity is an expression of that hope. Major political parties and their MPs in Westminster have, over the past 50 years, gone through a process with us of transforming their understanding and approach to LGBT people and equality. We believe the DUP can also make the same progress.
"Equal marriage has brought a great deal of happiness to many loving couples in Scotland – we hope that politicians in Northern Ireland will see there is no reason to deny any couple this happiness. Now is the time for acceptance without exception for LGBT people across the whole of the UK."
The equal marriage march will take place in Belfast on Saturday 1 July, starting at Writers' Square in Belfast at 2:30pm, culminating in a rally in front of Belfast City Hall.