The Queensferry Lifeboat was called out earlier today after a car plunged into the Firth of Forth at Burntisland Beach.
Emergency Services raced to the beach at around 3pm and found the car submerged.
A rescue helicopter was also circling the area as the Lifeboat crew searched the water but thankfully all the car occupants had managed to get out the car and safely ashore.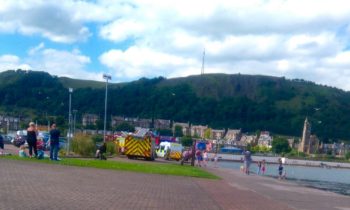 One onlooker said "I heard the engine of a car revving on the other side of the beach and turned to look saw a car had accelerated into the water just by the swimming pool.
"It didn't take long for the car to submerge but I saw people coming out of the water so no one seems to be hurt, fire, police, coastguard and ambulance were in attendance"
Police Scotland confirmed they were in attendance.
Photographs supplied.